County Elected Official Serving on a Local Board of Health
Image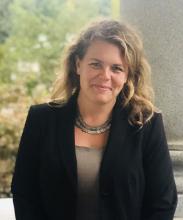 Kate Dean was elected to join the Jefferson County Board of County Commissioners in 2017 and represents District 1, Port Townsend.  Kate moved to Jefferson County in 1999 and spent 10 years farming and working to grow the local food economy through businesses she co-founded including FinnRiver Farm and Mt. Townsend Creamery. Her experience as an entrepreneur is critical to her understanding of the local economy and community.
Kate left the farm but didn't go far; she started a consulting business that had her working on natural resource and rural economic development issues locally and regionally. Kate coordinated the Jefferson Landworks Collaborative (a farmland preservation and enterprise development initiative), managed Washington State University (WSU) Extension's Small Farm Program, worked for Washington State Department of Labor and Industries, and was the Regional Director for the North Olympic Development Council. 
Kate holds her master's in public administration from the Evans School of Public Policy and Governance at the University of Washington (UW). Her publications include USDA Farmland Changing Hands and Preparing for Climate Change on the North Olympic Peninsula. 
Commissioner Dean serves on several statewide boards including the Puget Sound Partnership Leadership Council, the Washington Sea Grant Advisory Council and she co-chairs the Association of Counties Legislative Steering Committee.
Contact Information