Health & Sanitation & Native American Tribes
Image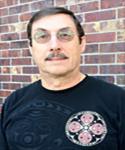 Steven Kutz, MPH, BSN, LTC USA (Retired)
Mr. Kutz is a member of Southwest Washington's Cowlitz Indian Tribe and served on its Tribal Council for approximately 20 years. He is currently employed by the Suquamish Tribe, where he serves as the Health Clinic Director.
Mr. Kutz received his Bachelor of Science degree in Nursing from Eastern Washington University in 1974 and has worked as a nurse for nearly 47 years. He received his master's degree in public health from Tulane University School of Public Health and Tropical Medicine in 1993. He served 20 years on active duty as a nurse in the U.S. Army in most all facets of their health care system, with 13 of those years spent in preventive medicine and community health. He also worked for more than 12 years in a county health department in Washington as director of public health nursing, while also serving as the health department director for eight years. He served the Cowlitz Tribe for almost 16 years as the Clinic Manger, Deputy Director, and Executive Director of Health and Human Services. Mr. Kutz served as the Suquamish Tribal delegate to the Northwest Portland Area Indian Health Board and has been its delegate to the Health and Human Services American Indian/Alaskan Native Health Research Advisory Council 2008 until 2016, as well as serving as a delegate to the IHS budget formulation committee, Indian Health Care Improvement advisory committee, one term as the alternate to the HHS Secretaries Advisory committee, and one term as the delegate to the CDC and NIH Tribal advisory committee. He is active in health policy issues at the national, state, and local levels.
He also served as a delegate to the Washington State American Indian Health Commission for almost 20 years and currently serves as their Chair. He works on the State Mental Health Committee that is advising the state in its efforts to redesign how Medicaid mental health services are delivered to American Indians and Alaskan Natives. He currently serves as the State Board of Health's delegate to the Governors Interagency Council on Health Disparities.